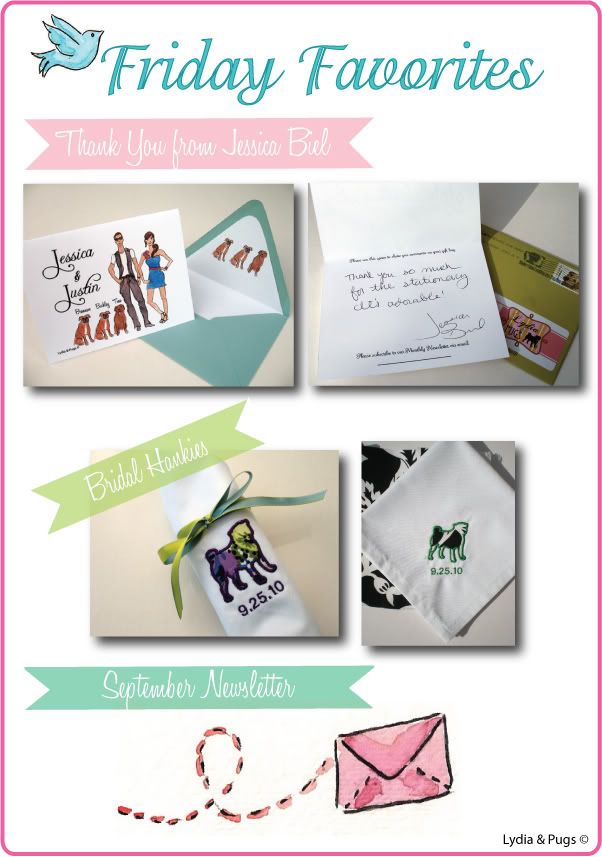 I hope you all have a great weekend! There's been lots of excitement here at Lydia & Pugs this week, I received a special Thank You note from Jessica Biel in the mail yesterday! I could hardly believe my eyes! She said she loved the
stationery gift set
she received featuring an illustration of herself with her bf Justin Timberlake and their 3 dogs: Brennan, Buckley and Tina!
I've also been making a few
Bridal Hankies
which are now available on the L&P website! I worked with Erica from
Green Shoes Wedding & Events
, and she sent me a fabric swatch for her September Bride and I think it turned out adorable!
Our L&P
September Newsletter
also went out earlier this week with all the news, new products and a Fall Coupon exclusively for Newsletter subscribers! Sign up
here
, if you'd like to get the inside scoop on all the lastest L&P happenings!
I feel so thankful to all my faithful followers and fans! You all are the best! Looking forward to next week with more exciting things to come!
Pugs & Kisses,
Dawn