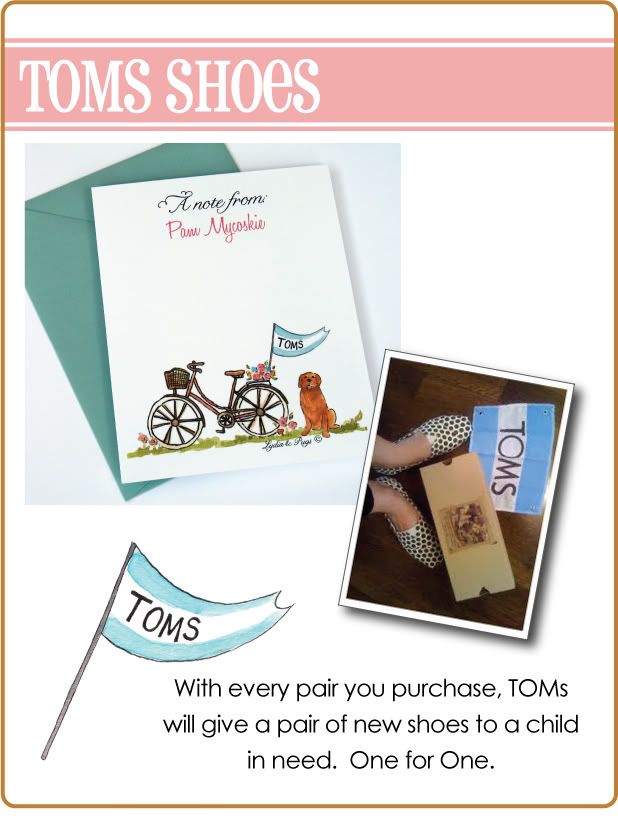 I recently had the pleasure of working on a special set of
custom stationery
for Pam Mycoskie. For those of you who don't know, she is the proud Mama of
TOMS Shoes
founder Blake Mycoskie.
After Blake competed in The Amazing Race in Argentina, he since then has returned to Argentina for vacation where he came up with the idea of a shoe company. Where for every pair sold, a new pair would be donated to a child in need of shoes. The shoes Blake was interested in selling are Alpargata shoes. As of September 2010, TOMS has given over one million pairs of new shoes to children in need around the world.
A friend of Pam's requested a set of stationery that incorporated both the
TOMS
blue striped flag, as well as, the Mycoskie's Golden Retriever. And Lydia & Pugs was the perfect fit to mesh these two things together into a perfect little note card.
I was told that Pam loved the thoughtful and personalized stationery she received and she can't wait to order more! I couldn't be more excited!
Pugs & Kisses,
Dawn