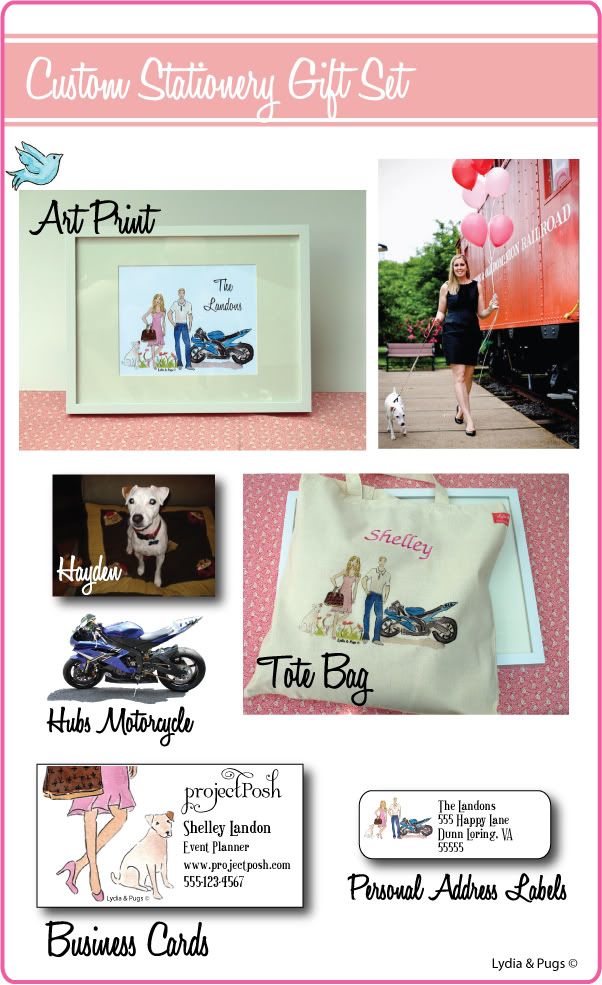 Shelley the owner of a Jack Russell Terrier, Hayden, and wanted something personalized with him and her husband. She requested a design that would not only be perfect for her personal items, but also for her business as well.
So the custom design process began! I came up with a
custom illustration
of her silhouette, her husbands silhouette, and her pup. However, she also wanted to incorporate one important detail to the design...her husband's pride and joy, his motorcycle! I had no problem illustrating his favorite item, in fact it looked just perfect in a
art print
to frame in her home. Shelley also loved the design so much, she ordered a
canvas tote bag
with her name embroidered, and a set of
personal address labels
.
Shelley has her own business,
projectPosh
, so I designed her some business cards with just herself and Hayden, professional yet chic.
This project made the design process fun and sketched beyond my design limits, I never knew a motorcycle could look so cute on a tote bag!
Pugs & Kisses,
Dawn