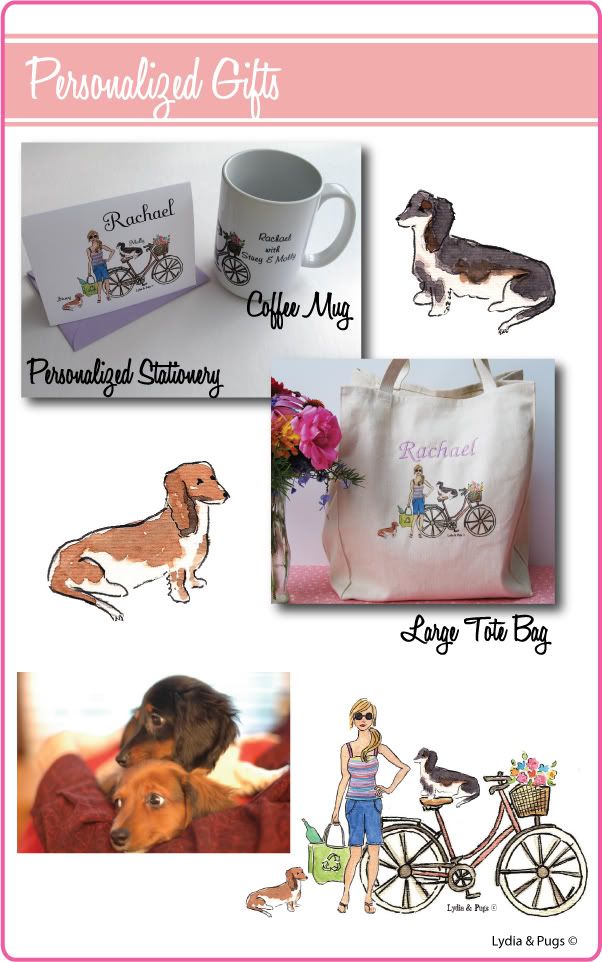 Personalized gifts
are the best, the very best! It shows the thought and care was there in putting together your present. I've been holding out showing you all this special gift, as I know this person reads and/or might have the opportunity to view Lydia & Pugs blog, so I had to hold off for a few months!
Yesterday was my bf's sister's birthday, Rachael, and she recently got 2 little long haired dachshunds, who she loves to pieces. Stuey is the red haired dog and Molly is the black haired dog, they are brother and sister and are just too adorable! In Rachael's illustration, I made sure to include a few important qualities about her: she loves to ride her bike, she always wears big sunglasses, loves to recycle and of course enjoys a great glass of wine! And her 2 pups were a definite part as well!
Her
custom illustration
was used on coffee mug, folded stationery note cards, and a
large canvas tote
with her name embroidered! All coordinating with her favorite color, purple! Rachael is was surprised and excited!!! She really loved her gifts, especially since they had that personalized touch!
Pugs & Kisses,
Dawn